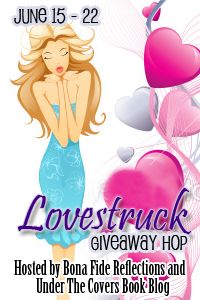 Welcome one and all to Nya Rayne's world!!!
This particular hop is going to last from the 15th to the 22nd of June. So, don't worry you can totally take your time enjoying the ride.
First, a little about me:
I am a paranormal and futuristic romance writer. All of my stories err on the side of romance with a good helping of erotica, and then a dash more of romance. So, yeah, I like it haut!! I've been writing professionally for a little over 10 years, but wrote my first story at the tender age of 15. It amounted to nothing, but was so much fun to write that I kept doing it. Anyway that's enough about me, you're here to hear which of my characters has me totally smitten, to the point that I just want to eat him up, right?
Well, that would have to be sexilicious, Donte, from my novel, FOR HIS LOVE. The man is just a walking, talking sex pot.
Don't you agree?
Here's an excert from For His Love. Donte, the sweetheart, is helping Phia get rid of a headache.
excerpt:
His fingers moved with expert precision, massaging the hairless lips of her sex.
Phia gyrated against his touch, her head thrashing back and forth. As his thumb rubbed at the rise of her vulva, her hips, of their own accord, rose up, her legs falling open, inviting him in.
She gripped the sheets as he played in her wetness. "Donté?"
"Shssh." He parted her, his fingers moving gently but swiftly. She lost her grip on the world. His thumb moved over her clitoris repeatedly, brushing over the tip, applying enough pressure to elicit a soft moan from her as her hips undulated toward his touch.
Suddenly, all she knew was this unnatural feeling swimming through her, growing by insurmountable bounds, making sparks of electricity bring parts of her body alive she wasn't even aware she owned.
He was relentless in his ministrations. Colors swam before her closed eyelids, beautiful shades, some she'd never seen before. The slick stickiness of her sex grew and expanded, draining from her like warm, rich syrup over hot crepes, and still his fingers danced over her, never entering, but coming so close she could feel him pushing against her walls, plunging deeper and deeper.
Her breath quickened, her heart rapped against her ribs, and her hips, her legs, her arms shook uncontrollably as an invisible coil buried deep within her abdomen snapped, shooting long, powerful yellow rays of current throughout her body. She gripped the sheets tighter, her body tensed, and she bit down on her lower lip as her hips rose and a spasm of sheer pleasure burst from her.
It took more than a few moments for her body to stop writhing and for her to regain some cognizance of where she was, but when she did, she opened her eyes to find him sitting back on the bed beside her, staring down at her.
<== Click on the pic to purchase your copy!!

Contest Time!!!
This is going to be simple. If you would like to recieve a free copy of For His Love, leave me a comment telling me how your special someone has helped you get rid of a headache in the past, sign up for my blog and follow me on twitter (@nyarayne) and you'll be entered in the running. And yes, this is an international giveaway!!
Okay, that's it for me, now on to your next
stop
!!
Thanks for stopping by!!!
Much Love!!